News
17. - 21. July 2017
Koen, Maarten and Milan will be at SCES 2017, Prague. Come check out our posters on Tuesday&Thursday and talk on Thursday!
11. July 2017
We contributed to Miguel and Jan's new paper.
18. June 2017
Paper on poor electronic screening published in PRB as Editors' selection!
25. May 2017
New paper on arXiv in collaboration with the group of Jan van Ruitenbeek
25. April 2017
Another paper on arXiv.
13. - 17. March 2017
Koen & Irene give talks at the APS March Meeting in New Orleans.
27. January - 3. March 2017
We are looking forward to co-hosting the workshop on unconventional superconductivity at the Lorentz center.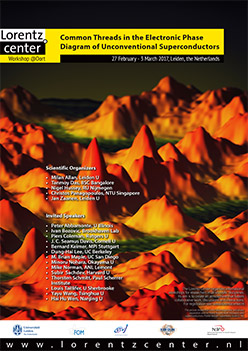 17-18. January 2017
Irene, Koen, Maarten and Milan will be at Physics@Veldhoven 2017. (Talk at PT6.1 and poster at P9.022).
25. November 2016
We are part of a newly granted Vrije Programma on strange metals, together with the groups of Hussey, Golden, vHeumen, Zaanen, Schalm, Stoof and Vandoren, see press release. We also got a Projectruimte.